Two Ways To Consume Tinctures
Two ways of using tinctures, because both have different effects: sublingual and ingestion.
Sublingual allows cannabinoids like CBD and THC to be absorbed through blood vessels in the mouth, by placing the right dose under the tongue, gently moving it around the inner cheeks and taking a few deep breaths through the mouth and nose before spitting the tincture out. The effects should feel within about 15 – 30 minutes and last a total of 2 – 4 hours.
Ingestion – is processing the cannabinoids through liver. It's best taken with food or drinks containing fat, because cannabinoids are fat-soluble. The effect takes longer but it lasts longer as well, up to 8 hours.
And what are the best products out there for either of those ways of using tinctures? We're pretty confident that these will help you therapeutically and situationally. So, let's dive in.
1: Joy Organics Tincture
The first CBD tincture on the list comes from Joy Organics, because this product is ideal for CBD beginners. It gives quick and easy results and contains no THC. The phytocannabinoid-rich hemp oil is lab tested and made in different flavors: mint, orange, lemon and natural, so you can enjoy your favorite flavor while still receiving all the benefits. Especially for sublingual use, the flavors can make the whole experience more enjoyable, knowing that mint is relaxing and citrus scents are refreshing, etc. Because the oil is broad-spectrum, it's rich in terpenes and phytonutrients that in combination with cannabinoids create an entourage effect, making it more potent.
Another great thing is that there are 30 servings in a bottle, it is not too big, so it's easy to bring to a public place, school or work. Using a dropper will alleviate the whole process of consumption.
And in order to maintain its freshness for long, the bottle should be kept in a cool and dry place.
2: Elixinol Tincture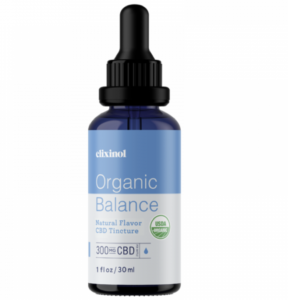 If you're in the market for a stronger tincture, you could find a 3600mg of CBD oil by Elixinol suitable for your needs. This particular oil is a great choice because it has no isolated cannabinoids and its made of full-spectrum, organically derived cannabidiol, without any harsh solvents or toxic chemicals.
The process of production consists of deriving specially bred hemp plants, which are naturally high in CBD, and also CO2 extracted before being packaged in a dropper bottle that contains high doses of CBD as a result. And finally, tinctures like this are synergistic because they have terpenoids and essential oils alongside CBD.
If is completely safe to use it twice a day, sublingually or mixed with meals and drinks, which comes to around 1mL on a daily basis.
3: Mana Botanics Tincture
This tropical tincture will easily become your favorite if you love the smell and taste of honey. Specifically, Lehua honey is added to the mix for an elevated sense of calm. CBD in this product is rich in phytonutrients and organic passionflower extract. The amazing thing about this brand though is that the production supports local Hawaiian farmers and provides a better future for agriculture. This product contains organic cane alcohol as well and as an extended shelf life if kept out of heat, too much light and moisture.
This bright and floral tincture has a semi-sweet flavour because of the honey, so it is best to dilute it in plain herbal tea like green or earl grey or in water with ice cubes or a fresh juice – it's up to you!

Learn More About Mana Botanics

4: Nanocraft Tinctures
Packed with a wide variety of cannabinoids, terpenes and other vital nutrients, the Gold Series CBD tincture is a great option for the type of CBD user who wants to benefit from all that hemp has to offer – because all of these compounds create the already praised synergetic entourage effect. The compounds really help each other absorb better, giving the body exactly what it needs to reach homeostasis.
The zero THC, full-spectrum CBD oil works wonders for anxiety, appetite, pain and other health issues.
Before entering the market, each batch of product is 100% organic and tested to ensure maximum quality, potency and consistency. Extensive research and testing is a high priority, thus so many positive feedback and recommendations from clients, regarding these products.
Used everyday responsibly, Gold Series CBD drops promote relief and recovery 'attacking' the endocannabinoid system and healing the whole body.
5: CBDFX Tincture
Another completely organically grown, full-spectrum CBD oil is available if you're on the lookout for a sweet but potent and efficient tincture. Mixed with MCT oil and natural organic flavors, it can be used in food, juices or by itself, sublingually. Because of its unique sweet and citrusy flavor of blueberries, pineapple and lemon, we believe sublingually is completely enough.
Alongside flavor, tinctures are easy to take and they serve high serving of cannabidiol when taken orally. This healthy, high quality and non-toxic oil by CBDFx should be taken once per day, one to two drops, under the tongue and waited for it to be absorbed.
The Bottom Line On Tinctures
Choosing the right product is very important because you want your investment paid off and your health at its best.
When it comes to cannabidiol, make sure you're using natural, possibly organic products that have no toxic chems added, but also make sure that the flavors, dose and brand are aligned with all your desires.
We have combined this list in order to help you a little, but now it's up to you to choose your favorite one and enjoy the consumption.